Over the years, we've seen a drastic change in the way we consume information online. Carrd (Carrd.co) allows people to create websites where your audience can get bite-sized information for better impact. In this article, we'll take a closer look at Carrd.
---
Table of Content
---
What's Carrd?
Carrd is a website building platform that allows you to create one-page websites. These sites can be used for various things like portfolios, business pages, and more.
These days, everyone has an online presence. If you're looking to capitalize on yours, one thing that you'll be needing is a personal website. The thing about websites is that they're tedious and expensive to make. Thankfully, there's Carrd.
With Carrd, you can easily create a website to show your work or a page to let customers know about your biz. Choose from their ready-to-use templates or build your own for an even more customized look. Carrd sites are easy to use and even easier to make.
Why use Carrd?
There are tons of reasons why people love using Carrd. As with other similar platforms, though, it comes with its own pros and cons, too.
PROS:
Ease of use - Carrd's easy to use interface makes it a breeze to create your own website, even with zero experience. Use one of the pre-made templates and add your own aesthetic to it. You can also create your own template from scratch. Carrd takes the stress hassle out of website-building, making it easier for everyone.
Multi-device compatibility - what good is a website when it only looks good on a certain type of device? Gain control over how your website looks across all devices. Whether your visitors are using a mobile phone, tablet, or computer, your website is sure to look and work the way you want it to.
Compact - share only what they need to see. Carrd's compact one-page design streamlines all the information your visitor needs to see in one place.
Free - Carrd is built under a Freemium business model. This means you get access to all core features for building your website. You can even create up to 3 different websites per account. Need more? No worries. Carrd's paid plan option starts at only $9/year!
CONS:
Limited options - because of its nature, Carrd can be quite limiting. Aside from the one-page limit, there are also some types of businesses that aren't well-supported by Carrd. An example of this would be e-commerce
What type of pages can you build with Carrd?
Having a one-page website can be beneficial in streamlining your online brand/identity. It may not seem like much, but one page can really boost awareness for your brand, business, or cause. Here's what you can build with Carrd:
Portfolio - Carrd's simplicity makes it easy for anyone to build a portfolio. Showcase your skills by uploading samples of your work. You can customize your page to make everything according to your style.
Landing page - want to streamline your business info and make it easier for potential customers to know more about you? Make a landing page and place your contact information there.
Awareness page -bring awareness to a cause you're passionate about. Create a one-page website with all the pertinent information for fellow supporters and potential recruits.
Forms - take forms to the next level by making them with Carrd. Carrd's form builder is quick and easy to use.
Profile - another type of page you can make with Carrd is a profile. Here, you can describe your professional experience for future employers. You can also list your skills and training and upload certifications, if any. You can even use it as a digital resume to wow future employers.
How to make a Carrd page?
Creating a Carrd page is easy. You don't even need a Carrd login to get started. Follow the steps below on how to make a Carrd.
Step 1:
To start creating your Carrd account, go to www.carrd.co and click on "Choose A Starting Point." You will then be taken to a page where you can choose from a number of Carrd themes to use. Scroll down until you find one Alternatively, if you'd like to start from scratch, click on the dotted square at the top right part of your screen.
Step 2a:
If you'd like to use a pre-made template, click on "Select." This will take you to the template page that you can edit and customize. You'll see useful instructions for editing the page, so take note!
Step 2b:
Starting from scratch? After clicking on the dotted square, you'll be taken to the builder page. Click on the plus sign (+) to start adding elements to the page.
Step 3:
There are various elements that you can add to customize and personalize your page the way you want. If you're stuck for ideas, you can always browse through social media or anywhere else on the internet for Carrd tutorials. You can also follow the Carrd Twitter page for ideas and updates.
Some elements that you can add to your card page(s) are:
Text - choose from a wide variety of Carrd fonts that fit your branding.
Image - upload photos to make a bigger impact
Video - add a video to convey your message better
Audio - make yourself heard! Upload audio samples of your work to showcase your talent and skills. .
Gallery - if you're planning on uploading multiple images, this element will come in handy.
Timer - create a countdown timer for holidays and other events
List
Buttons
Links - link to other platforms and make it easier for your audience to find you outside of Carrd.
Icons
Table - need to present data? Do it in a more organized fashion by using tables.
Divider - dividers are pretty handy when you've only got one page to fit all your content in. Make sure your page still looks neat and tidy by sectioning off your content with dividers.
And more
Step 4:
Once you're happy with your page, click on the Save icon at the top right corner of your screen. This will prompt you to create a Carrd account. On the same page, you can also choose to publish your Carrd page or save it as a draft.
Before publishing, you will also be asked to choose your Carrd page URL.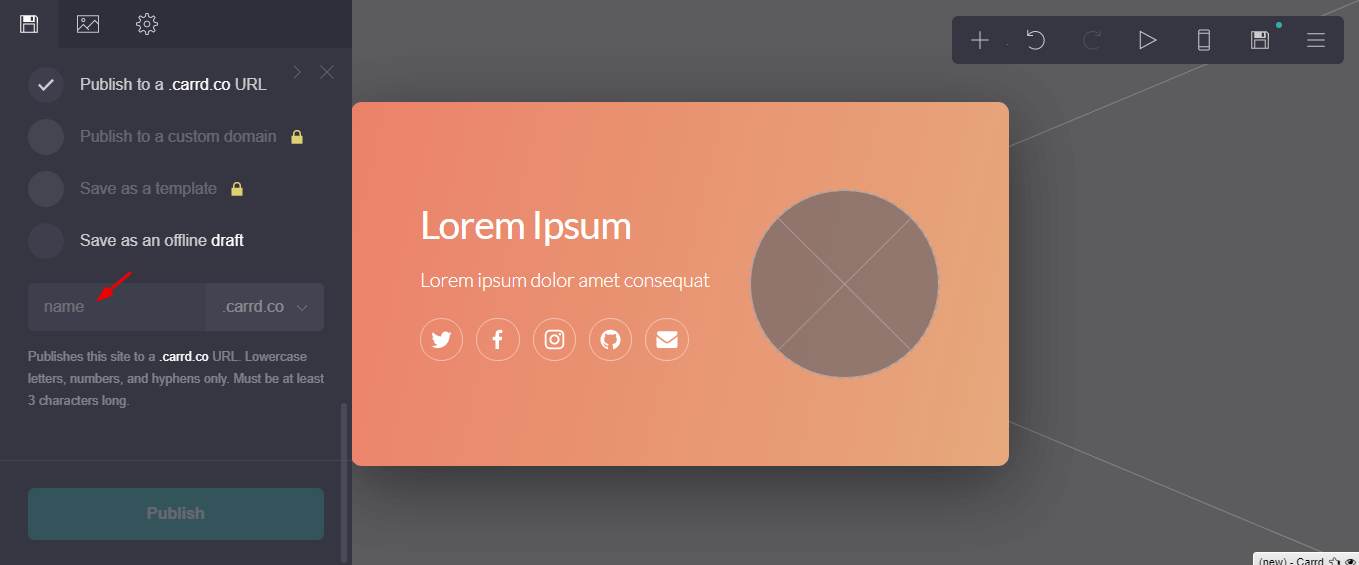 Step 5:
Share your Carrd URL! Once your page is up and running, you can start sharing it with others! You can create up to three different Carrd websites using the same account. You can also subscribe to their paid plans if you need more.
Popular Carrd pages
A lot of people use Carrd for many different things. Check out these awesome Carrd pages for inspiration:
How to create a membership on Carrd?